Regular price
£26.86 GBP
Sale price
£14.80 GBP
Unit price
per
Sale
Sold out
This Foldable LED magnifying glass with Crystal Clear Optical Grade Lens is perfect for Number Painting Projects as well as for reading viewing small prints like Newspaper, Magazine. No more straining your eyes looking for fine number prints & boundaries so your finished work is always great looking & perfect.
Features:
DUAL MAGNIFYING LENS:
?11x bi-focal lens for more detailed works with 5x magnification power for the main magnifying lens.
DUAL POWER SUPPLY MODES & 2 LEVEL BRIGHTNESS CONTROL:
?With dual-circuit, the magnifying glass can be illuminated in 2 modes by the USB cable or 3 AAA batteries (NOT INCLUDED). 2 brightness levels controlled by press of a button.
MULTI-AXIS ADJUSTABLE DESIGN:
?The 3 articulated joints allow this LED magnifier to be fully adjustable & free standing enabling 2 free hands to work on Paint By Numbers. In the folded mode it becomes a handheld magnifier. Totally versatile.
Bullet Point:
--Hand-held stand-type dual-use, portable and diverse.
--8 LED lights to meet your different needs in different environments.
--Three active joint adjustments.
--With battery compartment for long-lasting and convenient use, USB charging, plug in the computer board.
--High-resolution imaging, high light transmittance, make the vision clear and more comfortable.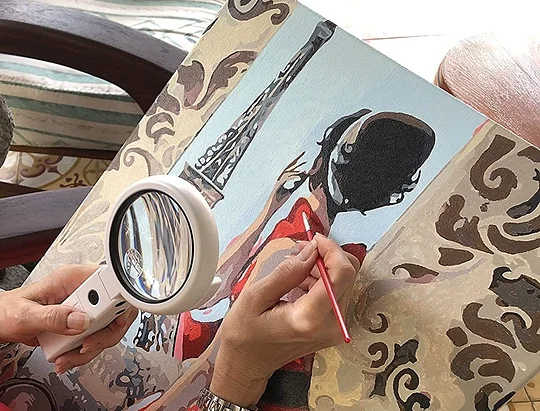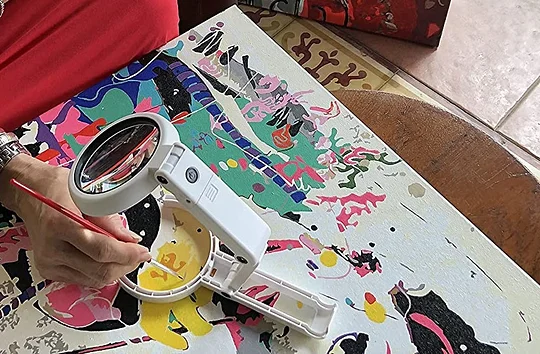 Specifications:
Material:
?ABS plastic, acrylic double optical lens
Product weight:
?170g
Product magnification:
?5X (large lens), 11X (small lens)
Lens diameter:
?75mm (large lens), 19mm (small lens)
Power supply model:
--Three AAA batteries External(NOT INCLUDED)
--USB power supply
Lighting source:
?8 LED lights
Package included:
1 * User manual
1 * USB power cable
1 * Magnifier
Share
View full details